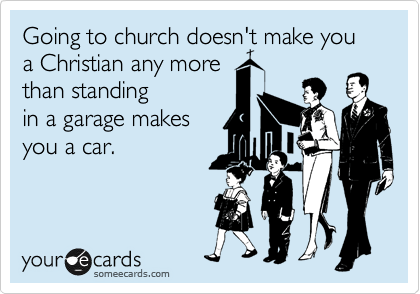 Here's the lesson I gave on 6-27-12.
At some point I'm sure we've all heard some variation of the phrase:
"Going to church doesn't make you a Christian any more than standing in a garage makes you a car."
This was posted on Facebook by a friend of mine a few months ago, and of course I like to abuse analogies and take them a little further than they're probably intended, so I replied, "But you need to take your car in regularly in order to keep it tuned up and from falling apart."

I definitely agree with the sentiment behind the statement. There is so much more to being a Christian than coming into a building labeled a "church building" and sitting in a pew three times a week. We must live a faithful life to Christ. We must spend personal time in study of His word and in prayer with Him. We must serve and teach others about Him. And that just barely scratches the surface of what God intends for his adoptive Children to be doing. "God wants us to be tired from doing His will so that the rest in Heaven will be that much sweeter."
However, I take issue with the fact that some people want to say that the inverse of the statement is true as well. That a person doesn't have to attend worship regularly to be a faithful Christian.
We are shown in scriptures that this is just not true.
When we study the scriptures, there are three main ways we learn what God's will for us. These are Direct Command, Example, and Necessary Inference or Principle.
We are given the direct command in Hebrews 10:24-25:
"24 And let us consider one another in order to stir up love and good works, 25 not forsaking the assembling of ourselves together, as is the manner of some, but exhorting one another, and so much the more as you see the Day approaching."
The writer of Hebrews tells us that we should be getting together and seeking each other out, helping each other to do good works, to do God's will.
We also have example of the New Testament church gathering together regularly, and maybe I'm reading into things, but I see them as being excited to do so.
We see them gathering on the first day of the week to worship God and partake of the Lord's Supper (Acts 20) and to give of their means (1 Cor. 16). We see them gathering daily to study, praise, and just generally spend time together (Acts 2:40-EOC).
We also have principle taught by Jesus.
Matthew 22:35-40

35 Then one of them, a lawyer, asked Him a question, testing Him, and saying, 36 "Teacher, which is the great commandment in the law?"

37 Jesus said to him, "'You shall love the Lord your God with all your heart, with all your soul, and with all your mind.' 38 This is the first and great commandment. 39 And the second is like it: 'You shall love your neighbor as yourself.' 40 On these two commandments hang all the Law and the Prophets."
We see here, taught by Jesus, that the most important thing should be our love for the Lord. We even have an example given where a person chooses his worldly life over being in the presence of the Son of God Himself.
Matthew 19: 16-22

16 Now behold, one came and said to Him, "Good Teacher, what good thing shall I do that I may have eternal life?"

17 So He said to him, "Why do you call Me good? No one is good but One, that is, God. But if you want to enter into life, keep the commandments."

18 He said to Him, "Which ones?"

Jesus said, "'You shall not murder,' 'You shall not commit adultery,' 'You shall not steal,' 'You shall not bear false witness,' 19 'Honor your father and your mother,' and, 'You shall love your neighbor as yourself.' "

20 The young man said to Him, "All these things I have kept from my youth. What do I still lack?"

21 Jesus said to him, "If you want to be perfect, go, sell what you have and give to the poor, and you will have treasure in heaven; and come, follow Me."

22 But when the young man heard that saying, he went away sorrowful, for he had great possessions.
This man decided that the material things in his life were more important than Christ.
And so I ask you this. If a Christian is a member of the bride of Christ, if a Christian is a person who professes to know the love of the Son of God who stepped down from His throne on Heaven to sacrifice Himself for us, despite the fact that we do not deserve it. If a Christian is a person that has taken on Jesus' name so that we can be more like Him, why would a Christian ever want to avoid any opportunity to be with their fellow brothers and sisters in Christ. Why would a Christian choose to prioritize other things over worshiping the God that saved us from our sin?
Of course I'm not talking about unavoidable things like illnesses. Instead I'm talking about the choices, both active and passive that we make that put worldly things before God.
If we are choosing other things over Him, do we really love Him with all our heart, soul, and mind?
If you'll allow me to answer the car/garage analogy from the beginning of my lesson with another analogy of my own:
When a person has a fever, we know they are sick. Now not everyone that has an illness has a fever, but if a person's temperature is 103, we know they need medical intervention.
Likewise, a person who misses church events regularly has a spiritual fever and they need to seek the Great Physician. And similarly, not everyone that has a spiritual illness will miss church events, but the illness will show itself in other ways.
Matthew 7:16-18

16 You will know them by their fruits. Do men gather grapes from thornbushes or figs from thistles? 17 Even so, every good tree bears good fruit, but a bad tree bears bad fruit. 18 A good tree cannot bear bad fruit, nor can a bad tree bear good fruit.
We need to first examine ourselves. Are we attending regularly? When we are here, are we fully investing in studying his word and worship to Him? Does the rest of our life have the same dedication to God as we do to our attendance?
Then, once we've taken stock of ourselves, we need to take a look around us. Who is missing? Do we know why? We should seek them out with love on our hearts and compassion on our lips, and show them that we miss them. Help them find their way back to Christ.
Hopefully their heart will be in the right place and they'll realize that you're not judging them, but instead following His Word.
James 5:19-20

19 Brethren, if anyone among you wanders from the truth, and someone turns him back, 20 let him know that he who turns a sinner from the error of his way will save a soul[f] from death and cover a multitude of sins.
And that is a primary purpose of the church, to be a support system for each other.
Galatians 6:2
Bear one another's burdens, and so fulfill the law of Christ.
The world is not going to help us be better Christians. No where in the world will you find support to follow Christ. Satan owns the world and he will use everything in it to tempt us, to weaken our resolve, to make us fail as Christians. We need to constantly be on our guard against Satan. He is always out to trap us, trying to draw us away from God.
Only in Christ's Church will we find the love and help we need to stay strong, faithful Christians.
The amazing thing is that anyone can be a part of the church — a part of this great support system — by hearing his Word, believing it, repenting from their sins, confessing His name, and being baptized for the forgiveness of those sins.
As a Christian, If you've let other things become more important to you than God. And you want to reaffirm that those things aren't really important and that you truly do love God with all your heart, soul, and mind, then you need to repent. Turn away from a life concerned with worldly stresses and troubles and give them back to Christ who is more than willing to take them for you. Put God first again.
(Visited 610 times, 1 visits today)
The following two tabs change content below.