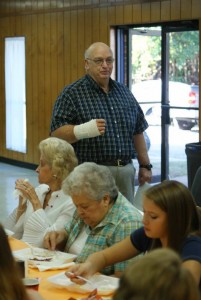 Every single day in a year is significant to someone in some fashion. Birthdays, holidays, anniversaries, and even days when a person dies are of great significance. To myself and many others yesterday marked both a day of mourning and of joy as our dearly beloved brother in Christ George Vinson passed beyond the veil into Abraham's bosom.
We mourn because a hole was left in our lives. Brother George was a kind, generous man who had the Lord's Word on his mind, heart, and tongue where ever he went. He was a mentor to me and to anyone he met and his death is a loss to this world.
He always said that he would rather wear out than rust out. And that's exactly what he did. The day before his heart attack he had been working with some of the men on our heater for our auditorium. The day of his heart attack he was getting ready to go back and work on it some more. He was always doing something for someone or for the church. And if he wasn't helping people with their physical needs, he was studying with them to help with their spiritual needs.
He spoke in his last class about another brother of the Church and the question that was asked when he passed on many years before: "…who will take his place?" As an answer he taught of the example of how Elijah's mantle was passed down to Elisha, and how Jesus passed on the mantle to his disciples. And with his own words he unintentionally provided us comfort for the days to come… Who will take his place? Who will fill the hole that has been left by such a giant of a man?
We will. We will do the Lord's work in the absence of these great men.
We can never be fully ready to give up a loved one. I wasn't ready to give him up because I felt I had so much to learn from him still. However, because he spoke from the Word, I know I can still learn the things he would teach.
We have joy because we know that he has received his eternal reward. He oft quoted 1 John 5:13 and taught that we should know without a doubt that we are going to heaven when the Lord claims us.
These things I have written to you who believe in the name of the Son of God, that you may know that you have eternal life, and that you may continue to believe in the name of the Son of God.
He knew with unwavering certainty of his destination; and we can know as well. We CAN see him again some day.
To do this we must hear the Word of God and learn that we have fallen short of His will. We must take what we have learned and believe and turn that belief into action… into faith. That active belief will urgently and immediately guide us to obeying His will by confessing His name, repenting of our sins, and being baptized for the forgiveness of our sins.
Finally we must stay faithful to the Lord in all things. We may slip, but as long as we are seeking His will with a repentant heart, His grace will cover us.
Romans 3:23
for all have sinned and fall short of the glory of God,
Romans 10:14-17
How then shall they call on Him in whom they have not believed? And how shall they believe in Him of whom they have not heard? And how shall they hear without a preacher? And how shall they preach unless they are sent? As it is written:

"How beautiful are the feet of those who preach the gospel of peace,
Who bring glad tidings of good things!"
16 But they have not all obeyed the gospel. For Isaiah says, "Lord, who has believed our report?" So then faith comes by hearing, and hearing by the word of God.
Acts 2:37-38
Now when they heard this, they were cut to the heart, and said to Peter and the rest of the apostles, "Men and brethren, what shall we do?"

Then Peter said to them, "Repent, and let every one of you be baptized in the name of Jesus Christ for the remission of sins; and you shall receive the gift of the Holy Spirit.
Acts 8:35-38
Then Philip opened his mouth, and beginning at this Scripture, preached Jesus to him. Now as they went down the road, they came to some water. And the eunuch said, "See, here is water. What hinders me from being baptized?"

Then Philip said, "If you believe with all your heart, you may."

And he answered and said, "I believe that Jesus Christ is the Son of God."

So he commanded the chariot to stand still. And both Philip and the eunuch went down into the water, and he baptized him.
Acts 16:30-33
And he brought them out and said, "Sirs, what must I do to be saved?"

So they said, "Believe on the Lord Jesus Christ, and you will be saved, you and your household." Then they spoke the word of the Lord to him and to all who were in his house. And he took them the same hour of the night and washed their stripes. And immediately he and all his family were baptized.
2 Timothy 4:6-8
For I am already being poured out as a drink offering, and the time of my departure is at hand. I have fought the good fight, I have finished the race, I have kept the faith. Finally, there is laid up for me the crown of righteousness, which the Lord, the righteous Judge, will give to me on that Day, and not to me only but also to all who have loved His appearing.
Please, if you have any doubt about your salvation, let someone know! Email me or call one of the Elders or Deacons at our congregation. We will be happy to study with you.
I want to leave you with a video recording of Brother George's last bible class. He was a great man and a great teacher. There is no greater way to honor him than helping the legacy he left behind to continue to spread the gospel for many years. We love and miss you Brother George, and we are praying for your family in this time of loss, sorrow, and joy.
(Visited 1,306 times, 1 visits today)
The following two tabs change content below.
Christian. Husband. Daddy. Geek. These four simple words sum up my life pretty well. I have three kiddos and am devoted to God and my wife. When I can, I also try to squeeze gaming into my crazy schedule.
Latest posts by DiscipleGeek (see all)