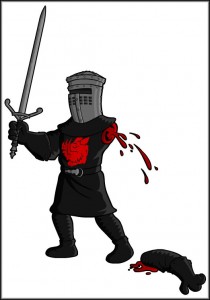 Such is the life of a hero that he is confronted by his own mortality on an almost daily basis. These confrontations often leave scars that shape and haunt the body and psyche of even the most stout of adventurers.

When an enemy rolls a critical hit that either causes a character to become bloodied, or strikes an already bloodied character, the character receives a Battle Wound. The effects of the Battle Wound should be based on the type of attack performed. The Battle Wound itself is temporary, requiring days or weeks to heal properly, and will always leave the character with a scar of some sort. This scar should have lasting effects on the character for the rest of his or her life. All effects of the Battle Wound and scar are determined by the DM and the Player at the time of the damage.
(Pic courtesy of Pichaus)
(Visited 274 times, 1 visits today)
The following two tabs change content below.