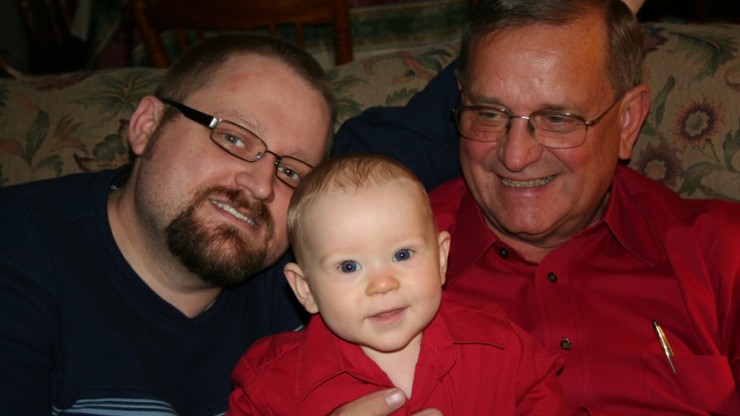 In my post on Monday, I mentioned that our life changed for the better when we had children. It seems like every time I turn around I see another part of my life that has been blessed by God through this gift. One blessing that strikes me as one of the most important is the amazing paradigm shift in my relationship with my own earthly father.
Typically, as we grow up people point out how we look or act like our parents. I am no different. My dad and I are so alike that it was probably these similarities that were the cause of a lot of the strife we had while I was growing up. Now that I have a son of my own, these same similarities have opened my eyes to the depth of love my dad has for me.
I am utterly humbled by it.
Looking back on my life with this new viewpoint I see sacrifices he made for me and my sisters that I never realized until now. Still, I know that what I see now is still only a fraction of reality.
Thank you for making these sacrifices.
Thank you for preaching the Gospel for almost half a century and bringing so many lost souls to Christ, including my own.
Thank you for showing me how important it is to still on your honeymoon with your wife even as you approach your half-century anniversary.
Thank you for helping shape me into the man I am today.
Happy Fathers' Day. I love you with all my heart, Papa.
(Visited 282 times, 1 visits today)
The following two tabs change content below.
Christian. Husband. Daddy. Geek. These four simple words sum up my life pretty well. I have three kiddos and am devoted to God and my wife. When I can, I also try to squeeze gaming into my crazy schedule.
Latest posts by DiscipleGeek (see all)