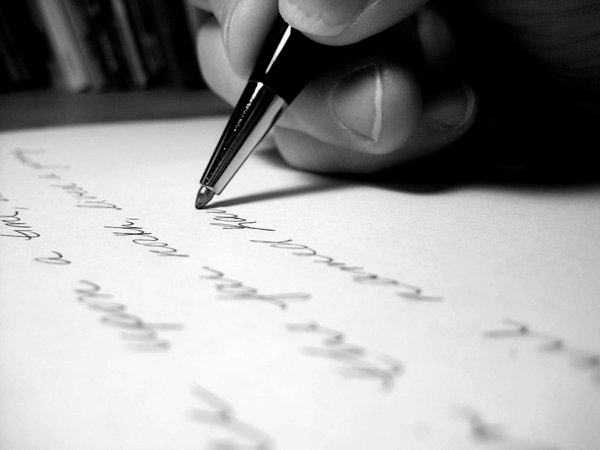 Here's a sample of my writing. This is the Hook I gave my players to help them get into the game a little bit better.
The market was bustling with activity even before the sun's first light had begun to melt the early morning frost. A portly, unassuming man lounged on the steps of a nearby business. Dressed in a linen tunic and burlap pants Douven Staul watched the tumult with some amusement. The occasional smile creased his face as people passed by and took little or no notice of him.

He always enjoyed his time at the market. Even when he didn't find any of his precious trinkets. Watching the people alone was worth the time he spent. It was also nice that unless he wore that ostentatious amulet that signified his rank — not to mention the pretentious clothes — he was hardly noticed. It was here that he felt at peace; a welcome reprieve from all the "your Grace's" and "my Lord's."

He again smiled to himself; after he and his friends rescued what once was a small village from the designs of a mad druid and his armies of goblins and twig blights, he was rewarded with the title of Constable and a job that would keep him comfortable for the rest of his life. He almost didn't take the job. After all, the call of adventurer life was strong and he knew there were many others in need that he could help. However he had fallen in love with a local elf maiden and despite the blood of an adventurer coursing through his veins he took the job and married her that month.

It was thanks to his wife's policies and political jockeying that the city flourished and grew to a bustling center of commerce. She handled all the political issues with the acumen of a seasoned professional and his name and title grew in proportion to the city.

He knew that he was merely a figurehead and didn't care. He was able to have his collections of rare artifacts, stories of grand adventures, and the occasional map, not to mention his other side projects. Despite his dislike for politics, he still had made his own improvements to the city. Just last year he started a University and rich influential people from all over were sending their children — and more importantly their money — to his school to be trained in subjects ranging from mathematics to the arcane sciences.

This year he had found three promising students that had no one to pay for their way through the school and chose to sponsor them: an elf girl, a dragonborn, and a changeling. Not only did he sponsor them, however, but he also created several courses specifically to train them to become adventurers like he had been. He admitted it was more of an attempt at living vicariously through the young ones than it had anything to do with generosity, but it helped them out of a tight spot in each of their lives so it couldn't be all selfish, could it?

The elf girl, Griselda, was his niece. They took her into their home several years ago, when the caravan she and her parents were riding with was ambushed by orcs. No one is certain how she survived and she refuses to speak about it. Unfortunately her proclivity for trouble seemed to follow her. His decision to start training a group for exploring the wild was prompted primarily by the unfortunate events that seemed to be plaguing her.

Once she was out picking berries for a pie and was attacked by wolves, another time she was going to grandma's house and axe wielding bandits attempted to mug her. Each time she managed to get out of trouble, and with merely a scratch or a scrape. A caring uncle however, could not let her go out again without proper training.

Trained from birth in the service of Bahamut, the dragonborn Pol's impetuousness and temper made him an outcast among his family. Fights and scuffles often broke out anytime he was nearby and were considered unsuitable actions for a life at temple. He packed his bags one day after a particular altercation and never looked back. Douven found him wandering the streets begging for food and in pity gave him a room and paid for his schooling.

He had found the changeling Hathran in prison, having been caught lifting the coinpurse off an unsuspecting target. The target never noticed, however the guard the target was standing in front of did. Something about the changeling sparked Douven's interest and he immediately had him pardoned and again gave him a room and paid for his schooling.

Hopefully some good will come from his charity some day.

Most of the merchants were already set up for the day. But these weren't the ones he was interested in. With the growth of the city the market had also grown beyond the small square and into a dozen side streets and alleys. This had the side effect of enabling several of the less reputable merchants — merchants who had not registered with the city tax office — to set up shop with little notice. It was these merchants that most often carried powerful artifacts or ancient maps. If he was lucky, they never realized the extent of the power the objects held. But sometimes, they knew and were unwilling to part with the item. Of course it was his duty to report unregistered merchants to the guard.

One such artifact was a book of meticulously drawn plans for a warforged golem. Over the past few years he had collected parts and unsuccessfully attempted to build the golem described in the book. Yesterday, however, he had found a missing part that should give him a much more stable matrix for the golem. Tonight he would go over everything one last time before attempting to activate the creature.

Hopefully today he would find something just as important.

He closed his eyes and took a breath, opening his senses and reaching out to feel the subtle vibrations of magic. Each creature added and influenced these vibrations shaping it into a grand symphony. He cleared his mind and began to systematically pick out each tone of those around him and block them. With the background noise silenced he soon heard a unique sound, similar to the others but less organic – as if it were shaped and designed rather than grown. This would be an enchanted item.

Opening his eyes, he could tell the sound was in the vicinity of a dirty old crone sitting in the corner of the alley, necklaces and other various trinkets sprawled out on a ratty black cloth in front of her. None of which sang to him as he approached.

"'Ello young man, care for a bauble for that woman in your life? I make these myself and use only the finest and rarest jewels I can find." Several missing teeth marred the smile that never reached her eyes.

Douven quietly examined the trinkets, doing his best to be covert as he looked for the target of his interest.

"I also have some nice dye for your woman's lips and cheeks. Give her that rosy appearance all women seek." The smile seemed to be carved into her lips as if she never naturally had the ability.

Out of the corner of his eye he caught a dull reflection amongst the burlap bags that obtained the few possessions the old lady had. An ivory map case.

"What about that map case back there, is it for sale?"

"Map case?" The smile shattered to a scowl. "I don't know what you're talk-" The old woman turned and spotted the case sticking out of her bag. "Oh THIS old thing. Why on earth would you want it? I'm sure you'd much rather have something for your special lady-friend."

"You keep assuming I've got a woman. She died 5 years ago." Seeing that she was going to be difficult about the map, he lied and pulled out one of the many trinkets he collected. "See, here's my wedding ring… Has brought me a lot of luck, even made me a better swordsman. I'd much rather have a map and spend my final days exploring than hold on to this thing, how about a trade?"

She eyed him carefully.

He sighed and decided to play hardball. "Make the deal, or I can make things very uncomfortable for you. I just happened to spot a guard right around the corner within earshot."

Her eyes widened and her voice lowered to a dangerous whisper. "You WOULDN'T dare!"

He lowered his voice similarly. "Try me, hag."

She shoved the case into his hands and swiped the ring from his. "Fine. Piece of bad luck that is. Enjoy your death."

Douven hurried away from the stench of the woman and opened the case. It was a map of Winterhaven that he'd never seen. It showed a keep up in the mountains and an old dragon burial site. And where dragons are buried, surely there's treasure as well.

Adventure. The reminiscing he'd done today had stirred up all the old feelings of desire for adventure. It would take him a few weeks to prepare to leave, but he ran away once when he was 16, he can run away again at 67.

—
Four Months later
—

The Duchess Staul paced the floor of her her private office. Its spartan decorations stood in high contrast to the dress she wore. She picked a piece of fuzz off her sleeve and looked at the misfits that stood in front of her in what barely could be defined as a line.
It amazed her that Douven considered these children his prized pupils. She first considered her niece; dressed in hunting leathers and crouched in a relaxed position while she oiled her bowstring. The Duchess scowled at the unrefined manner Griselda held herself.
Next to her the scruffy changeling leaned against the door frame and looked like he'd rather be drawn and quartered than be here. Considering some of the rumors she's heard about him, she'd grant his wish if she thought she could keep it from Douven.
Having moved one of her chairs from the corner, the dragonborn sat impatiently waiting to be dismissed. He met her eyes with a level stare and she could almost feel waves of anger emanating from him — probably from being summoned here and having his day interrupted.
And finally she considered the imposing wall of stone and metal that stood completely motionless. She wasn't even certain that it… he was even on. Hopefully he has learned enough to be of use for what she had planned.

Taking a deep breath she turned and addressed the group. "As I'm sure you're aware, we haven't heard from Duke Staul since he left for Winterhaven over three months ago. I'm starting to get a little concerned about him. You know how he can be a little detached from reality from time to time."

She took another breath. "I need you four to go after him. Find out if he's alive and bring him home if he is. You depart first thing tomorrow morning. I trust you to keep this quiet. I would rather certain aspects of our leadership here be in the dark about his absence." She paused and considered the four again. Part of her felt that this was a mistake, she should dispatch a legion of guards rather than these delinquents.
She shook her head, she had already considered all the options and had made her decision. Now was not the time to change her plans.
With a frown of worry, she addressed the group again. "You can leave now."

All four, always having been uncomfortable around the Duchess left quickly and without comment. She silently prayed to the gods for Douven's safe return and hoped she made the right decision.
(Visited 203 times, 1 visits today)
The following two tabs change content below.