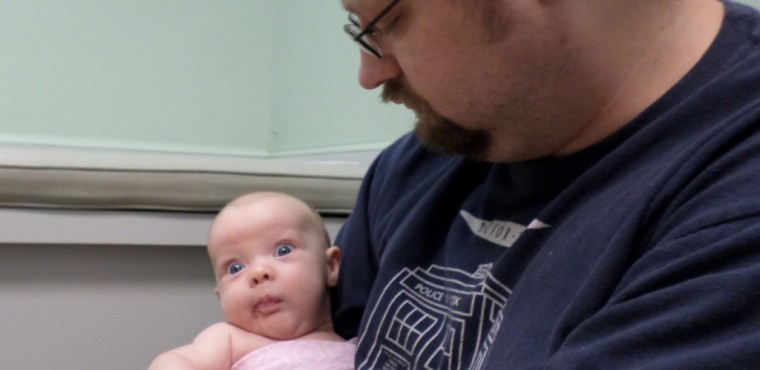 Well, obviously I'm not the one actually doing the nursing. Otherwise I'd change my day job to making tabloid money from my ability to lactate.
Seriously, I have a 2 month (9 week?) old baby at home and my wife has chosen to nurse. I know this is a sensitive topic, so I'll try to be as discrete as I can about it.
I have nothing against nursing and am 100% behind doing everything we can with the babies as naturally as possible. With our first we made it through most of the birth without drugs. We probably would've made it further if the hospital staff were more supportive of our choices. Instead they acted more like drug pushers than nurses and we gave in at the end to a dose of Stadol.
Our second came very quickly and there wasn't any time for drug intervention. Even if that hadn't been the case, our nurse this time was extremely helpful and encouraging. She was actually rooting for Christina to birth the baby naturally. The experiences were as different as Kirk and Picard (geek reference +1) and we are definitely bigger fans of the natural birth.
Anyway, back to nursing. I appreciate my wife's sacrifices and sympathize as much as I can being a man. Nursing comes with it a whole slew of problems: soreness when full, cracked skin, clogged ducts, late nights with little sleep. Then when you add a toddler to the mix, you no longer can "sleep when the baby sleeps" as most people keep telling her to do. Basically I have on my hands an exhausted mommy that's tending a 2 month old and a 2 year old.
The most frustrating part is that there's not much I can do about it.
Oh sure, I can and have stayed up with our daughter. We've supplemented with formula and pumped extra milk, but really it seems she doesn't like taking the bottle. Maybe I don't have the magic touch.
I've also taken our son on some of my errands to get him out of the house some so mommy can rest. He seems to enjoy his big boy time with daddy, and I enjoy getting to spend extra time with him.
We've also prayed about it. A lot. (Not alot.) It's really hard to phrase "make our daughter sleep" in a prayer without feeling a little guilty or awkward.
I feel so powerless when it comes to this issue. I'm a man. I like to solve problems. However this one doesn't seem to have any clear solution except "it'll get better with time." Which for me isn't a proper solution, but I guess I don't have much of a choice really.
I suppose while I wait I'll use it as a topic for a blog post.
Men, what do you do when you encounter a problem without a solution?
Ladies, is there something your husbands can do to help during this time that just seems to be solely one on one?
(Visited 328 times, 1 visits today)
The following two tabs change content below.
Christian. Husband. Daddy. Geek. These four simple words sum up my life pretty well. I have three kiddos and am devoted to God and my wife. When I can, I also try to squeeze gaming into my crazy schedule.
Latest posts by DiscipleGeek (see all)