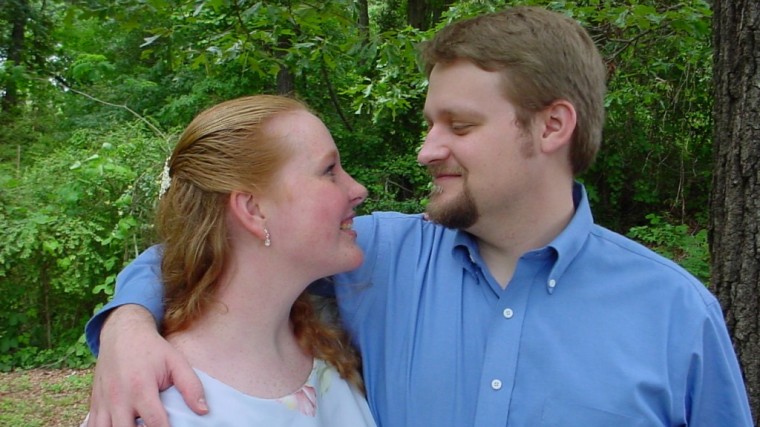 We spent yesterday traveling back from my parents with two sick little ones. What was supposed to be a 3 hour trip ended up taking about 5 hours due to stops for crying, wet diapers, and vomiting children. By the time we got home, I was so exhausted that I figured I would re-post something I wrote for the website I made for my wife. Unfortunately I couldn't find the original database. I faintly remember deleting a bunch of "old files" from my web server and realized that one of those files was the database I was seeking.
I just now found (and backed up) a copy of the database buried in a folder on another website.
Finally, here is the post "His Story…" I wrote almost six years ago. Here's my story of how I met my children's mother (and no, it won't take 9 or so years to read through):
—
While I could start when Christina first messaged me on the church of Christ singles website, I believe my story begins quite a few months before — almost a year or more before.
It started really when my dad was attending the Freed-Hardeman Lectureships. He came across a young lady that he thought would be a nice match for me. He described her to me and informed me that she was from Canada and traveled quite a bit. I asked him to give her my number if she was interested and promptly forgot (for the most part) about the whole thing.
Meanwhile, another friend of mine was seeking different opportunities to meet new people and had come across the church of Christ singles website. She could get a free month for referring someone else, so begged me to sign up and create a profile. Being the Nice Guy that I am, I signed up for it and posted a quick profile with a picture, and again, promptly forgot about the whole ordeal.
Months later, in a random fit of boredom, I logged onto the site and started looking at the potentials listed there. I came across a profile of a pretty young lady whose location showed "Alabama Canada." This immediately set off several questions: "Is there really an Alabama Canada?" My geography skills are poor, and google had no information on this, if that was the case, question # 2 "Could this possibly be the young lady my dad had been talking to at Freed?" Information in her profile certainly leaned that way.
I had to make a decision. I could either ignore the possibility, or pay up and ask the question.
My curiosity won out. Thirty dollars later I was sending a quick note across the internet. A few days later I received a response. No, there is no Alabama, Canada. She put both as her location because she lives between the two places, and yes, she was the young lady that my dad had spoken with. And no, she wasn't interested, thank you very much.
I'd paid the price for my curiosity, and now I had a year's subscription to churchofchristsingles.com. As is my nature, I want to get the full benefit of my thirty dollars, so over the next few months I kept my profile up to date. This included an update that I had attended a renaissance faire in Texas.
Not too long after that, I received a note from Christina asking me which Ren-faire I had attended. She then told me that she was going on an 11 hour trip out of town. I waited in agony and curiosity for her to return and reply to my response, but once she did, it began a wonderful flurry of emails, IMs, and phone calls.
It was well worth the wait.
Two months later after hurricane Ivan ripped the roof from where I was employed, Christina drove the 20 hours and visited me in my time of need. That was it. I was smitten. Well, I already was smitten, but this set it in stone. Not just confirmed, but reinforced the bond that was already well formed.
At the end of October of that year, Christina moved away from her family and friends in Minnesota and moved in with some friends of mine. Marriage was the topic on our minds, in our hearts, and pouring from our lips.
I proposed on Christmas Eve while driving through the Cinderella Christmas light display at the Botanical Gardens in Huntsville, Alabama. We were wed on July 9th, 2005 at noon in the Grandview Pines church of Christ building.
It's been two wonderful years so far, and I pray to God for many more. But every minute I get is a blessing from God. A little sappy I know, but I get like this around my anniversary.
Growing up we are told that we should use our talents when thinking of gifts. As such, this website is part of my gift to Christina for our second anniversary. My intention is to have a place where our friends and family can come and get an update on us, view some photos, and read our stories.
Enjoy.
-Trey
—
I'll be posting her side of the story at some point.
(Visited 182 times, 1 visits today)
The following two tabs change content below.
Christian. Husband. Daddy. Geek. These four simple words sum up my life pretty well. I have three kiddos and am devoted to God and my wife. When I can, I also try to squeeze gaming into my crazy schedule.
Latest posts by DiscipleGeek (see all)