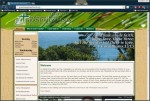 This is another of my constantly undergoing changes websites. I get bored with what's there and change it thinking something else will look better. Uses WordPress, and several really nice plugins.
One of the things that I attempt to provide for our congregation is a central location for prayer requests, news, past bulletin articles, etc. The problem, however is that most of this could be considered information that should not be public. I use a google groups invite only mailing list for members announcements/prayer requests, and a request mailing list for our bulletins. This allows some screening if necessary.
(Visited 146 times, 1 visits today)
The following two tabs change content below.